Every Disciples church includes a Holy Communion service each week as part of worship, and each church administers the Lord's Supper a little differently. At Broad Street, we are both reverent and efficient (our entire worship service still lasts only an hour).
Here's a summary of the mechanics:
Our Table servants include both Elders, who preside at the table with the Minister and offer prayers, and Deacons who distribute the meal to congregants. Our communion plates include both the cup and the bread on a single plate.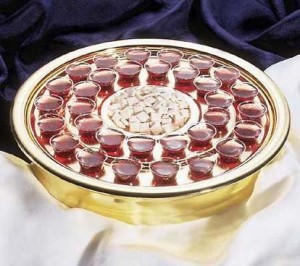 Since we are a congregational church believing in the priesthood of every believer, we want to serve one another. We symbolically demonstrate our service to one another by how we distribute the Lord's Supper in the pews.
The person at the head of the row (in seat 1) receives the plate from the Deacon, and passes the plate to his or her neighbor in seat 2. Then, the person in seat 2 holds the plate while the person in seat 1 takes the bread and consumes it. Person in seat 1 also takes the cup and holds it for unison partaking. Then, seat 2 person passes the plate to the next person in seat 3. Seat 3 person holds the plate while seat 2 person takes and consumes bread and takes the cup to hold. This continues down the row until everyone is served except the last person in the pew. The last person in the pew passes the plate to the Deacon positioned at the end of the pew. The ending Deacon holds the plate while the last person in the pew takes the bread and consumes it, and then takes the juice to hold for unison partaking. The Deacon will always return to the end of each pew for the plate; it is not necessary for persons in the pews to assist others in pews in front of them or behind them.