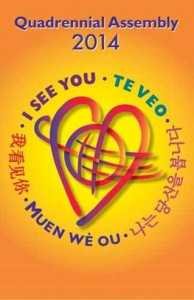 Make plans now to attend the DWM/CWF Quadrennial Assembly June 25-29, 2014 in Atlanta, GA.
You can now register (click here for registration form) and make your room reservations as well. Road transportation will be available through NC regional CWF at a low cost.
Note: Dr. Johnson will be leading a workshop about Alternative Lectionaries.
REGISTRATION FEES
July 18 to December 31, 2013: $370
January 1 to March 31, 2014: $375
Postmarked on or between April 1 – June 9, 2014: $400
On-site registration: $425
One-day registration: $130
You can apply for a scholarship
MEAL PACKAGE – Six plated meals (three lunches and three dinners): $175
HOTEL ROOMS – Each room (occupancy from one to four) is $109 (plus taxes)
AIRLINE EVENT CODE for Delta ~ NMG2P (domestic), NMG4T (international)
Reservations and ticketing to Atlanta International Airport are available via delta.com. When booking online, select Meeting Event Code and enter our code in the box provided on the Search Flight page.
Reservations may also be made by calling Delta Meeting Reservation at 800.328.1111 / Monday to Friday, 7:00 to 7:00 Central Time.
REASONS TO ATTEND
Grow in the Word through Bible Study, workshops, and heart-swelling worship;
Hear exciting CC (DOC) preachers: Rev. Dr. Sharon Watkins, Rev. Dr. Nohemi Pagán, Rev. April Lewton, Rev. Dr. Penny Ziemer, Rev. Dr. Cynthia Hale;