We are a congregational church located in the downtown historic district of New Bern where we have been celebrating the Weekly Communion Service since our founding as a Disciples church in the mid-1800s.
Our lower level and sanctuary are handicap-accessible. We have an elevator. See the Newcomers tab for more information.
Read this summary of Disciples identity.
What Disciples Believe
---
Senior Pastor – Currently in Search and Call Process
BSCC has entered the Search and Call process with the Region of North Carolina and is currently considering candidates through the Disciples of Christ Search and Call process.
---
Minister of Music – Minister Angel Lorton
Angel Lorton has been ministering here at Broad Street for 27 years playing the piano and organ and directing the choir. Bi-vocationally, she is also a local hospice Chaplain, and she teaches piano.
The music ministry is a great place to become involved at Broad Street Christian Church. Music is a wonderful way to lift our praise to God and inspire the congregation. Each time we minister in music, we want to raise your hearts and spirits and give you something to take with you and hum during the week.
A number of opportunities are available for anyone who is interested. You do NOT need to be a soloist to join our Chancel Choir. We would like to have anyone who has an hour and a willing heart. The Chancel Choir ministers in Sunday morning worship and on other special occasions. The rehearsals are a source of fellowship, fun, and learning. They are held on Wednesdays from 6:00 p.m. to 7:00 p.m. unless otherwise listed in the bulletin. We would enjoy having you as a part of our ministry, so come and sing with us!
The Chancel Hand Bells are another opportunity to minister to the congregation. They ring approximately twice a month on Sunday morning. Their purpose is to bring praise to God and to help the congregation get ready to worship. As with the choir, rehearsals are full of fellowship and fun with some bell ringing thrown in for good measure. They are held on Wednesdays from 5:30 p.m. – 6:00 p.m. unless listed otherwise in the bulletin.
We would love to have some beginner ringers in order to form a new group. A convenient rehearsal time will be arranged. No singing or reading music required. You only need to be able to count to four and be willing to learn how to ring a bell. That's it! We'll teach you everything else. It's fun! We promise! Come and join us for a ringing good time.
The children come together and rehearse for special occasions. Plans for the future include rehearsing on a regular basis in order to minister in the Morning Worship. Children of all ages are welcomed and encouraged to participate. Information on rehearsals and opportunities will be listed in the bulletin.
Contact Min. Angel Lorton at aandj@suddenlink.net.
---
Administrative Assistant – Catrina Mack-Cook

Catrina has a heart for the Lord and brings administrative experience to the church office.
Catrina served first as a Director of the learning center and then six years as the Executive Secretary (from 2009-2015) at New Light Cathedral in Thornburg, Virginia. She previously owned her own children's day care and has also worked as a senior caregiver.
She is active in church as a member of Peletah Ministries on Neuse Blvd.
Catrina is currently studying at Craven Community College. She graduated from New Bern High School and is delighted to live here again.
Please use the church office email address to contact catrina: nbdisciples@suddenlinkmail.com
---
Facilities Attendant – Sarah Nelson
Sarah Nelson is our "Jill of all Trades." For 19 years she has provided facility services to our congregation. She can do and make practically anything. Sarah, who was born in New Bern, is also a member and a Deacon serving the church faithfully.
---
Nursery Attendant – Katherine Gillette

Kathy has been providing nursery care to our church children for two and half decades!! Kathy teaches our youngest children along with Annette Daugherty. Kathy has been loving our smallest members at Broad Street for 26 years. When asked about a favorite memory of Ms. Kathy, Julianne Lorton immediately smiled and replied, "She was always glad to see me." To this day, the 13 year old still loves to stop in and say, "Hi." Kathy has the gift of making each child feel special. This is extremely important with our little ones. Ms. Kathy is often the first person outside of the family to begin regularly teaching our children about God and God's love for them. From the time they are babies, until they graduate into the next class, Kathy demonstrates God's love and caring to each of her charges while teaching them the very first Bible stories.

Kathy graduated from NC Central State University and Shaw University. She received a Bachelor's Degree in Elementary Education and has her teaching license for birth through Kindergarten. Kathy spends her workday at the Duffyfield Child Development Center where she has worked for the last 30 years as a NC Pre-K Teacher. Kathy explains, "I love what I do. I have a passion for teaching, and I carry that from the school into Broad Street."
In addition to loving other folk's children, Kathy has two adult sons, Christopher and Justin. Broad Street Christian is indeed fortunate to have someone like Ms. Kathy to walk with our children as they begin their lifelong spiritual journey. We are grateful for the children she has taught and look forward to many more years and even more children.
---
Youth Minister-Jamie Haddock
Minister Jamie Haddock, hired as a part-time Youth Minister for Broad Street began her service with us on Sunday, April 19, 2015.
Jamie served as the Youth Minister of Ayden Christian Church in Ayden, NC for four years. She also has experience in childcare, office administration, and accounting. She lives in Grifton, NC with her husband Joe and two boys, Peyton (age 8) and Trent (age 5).
Jamie is currently pursuing a ministry certificate at Lexington Theological Seminary and is under care with the NC Christian Church (Disciples of Christ) Commission on Ministry. She will seek ordination with Disciples of Christ through the apprentice track upon completing her certificate program.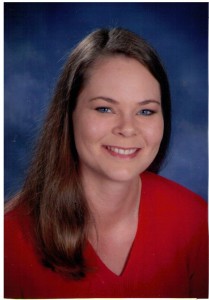 Jamie is enthusiastic about youth ministry, as well as missions and outreach. Minister Haddock can be contacted by email at jhaddock1217@gmail.com.